New features and articles added frequently, so do check back. Prices for cycads depends on caudex size, not pot size.
CYCAD PRICES
CYCAD - PRIVATE COLLECTIONS RECENTLY ACQUIRED
(Scroll down below collections for cycad articles)
New Smaller but Rare Cycad Collection
Arrived mid-December, 2017
Huge plants in smaller pots
SEE THESE NEW CYCADS
New Private Cycad Collection
Different Selection This Collection

October, 2017
New Private Cycad Collection
Rare Species - Many Old Plants
See This Collection

Private Collection - Huge Encephalartos

August, 2017
Large Sizes Never Seen For Sale
See This Amazing Cycad Collection


July, 2017 - New Private Collection from La Mesa, CA - Rare species, many enormous specimens three feet or more of trunk - Mostly Encephalartos -
See This Amazing Collection
January 8, 2017 - New Private Collection of 33 mature, huge Lepidozamia peroffskyana
See these huge cycads
January 7, 2017 - New Private Cycad Collection - Older Plants! Click to see Collection
JUST IN - NEW CYCAD COLLECTION
ARRIVED MID-SEPT., 2016
Late August, 2016
New Super Rare Cycad Collection
200 plants from Sacramento, CA
All container grown from seeds
Species Never Offered Before!

CLICK TO SEE COLLECTION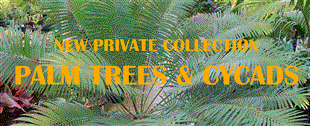 July 2016 - Private Collection of rare Palms & Cycads Click to see this Offering

Just in: June, 2016 Several dozen blue Encephalartos from Private Collection : See Collection!