Nursery Hours:
Monday -Saturday 9AM-4PM


Delivery is available!

All major credit cards accepted



RECENT ARRIVALS

OF PRIVATE CYCAD COLLECTIONS


EXTREMELY RARE SPECIES

MANY LARGE PLANTS

ALL FOR SALE


Click Below to see Each Collection


Over the past two years we've been very busy acquiring over a dozen private collections of super rare cycads. Some had over a hundred plants. By the time you view the collections listed below, realize that many individual plants may have previously sold. But, many more still remain. If we can, we try to notate plants that we know have sold.

As far as we know, we are one of the few nurseries in the country that is offering the opportunity to get instant landscape with botanical garden quality and sized plants of very rare cycad species.

Each of these acquired private collections is listed below - with the most recent groups shown at the top. Just click on any collection to see that acquisition. Unless already sold, all shown plants are at our nursery location. Please drop in to our nursery to view them in person. There's more than a thousand plants from these collections still remaining. If you are not able to visit the nursery, just contact us and we can email more photos and information. Mail order or delivery can be arranged.

The best way to contact us is to either call or email.

Phil Bergman

Jungle Music Palms, Cycads & Tropical Plants
(Nursery address below)
phil@junglemusic.net
619 291 4605

Encinitas, CA
RECENTLY ACQUIRED PRIVATE CYCAD COLLECTIONS
MOST RECENT ACQUISITIONS AT TOP




NEW BLUE CYCAD COLLECTION
Arrived May, 2018 - Only Encephalartos
SEE COLLECTION
New Smaller but Rare Cycad Collection
Arrived mid-December, 2017
Huge plants in smaller pots
SEE THESE NEW CYCADS

New Private Cycad Collection
Different Selection This Collection
October, 2017
New Private Cycad Collection
Rare Species - Many Old Plants
See This Collection
Private Collection - Huge Encephalartos
August, 2017
Large Sizes Never Seen For Sale
See This Amazing Cycad Collection
July, 2017 - New Private Collection from La Mesa, CA - Rare species, many enormous specimens three feet or more of trunk - Mostly Encephalartos -
See This Exciting Collection

January 8, 2017 - New Private Collection of 33 mature, huge Lepidozamia peroffskyana
See these huge cycads

January 7, 2017 - New Private Cycad Collection - Older Plants!
JUST IN - NEW CYCAD COLLECTION
ARRIVED MID-SEPT., 2016
Late August, 2016
New Super Rare Cycad Collection
200 plants from Sacramento, CA
All container grown from seeds
Species Never Offered Before!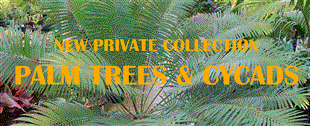 July 2016 - Private Collection of rare Palms & Cycads







Just in: June, 2016 Several dozen blue Encephalartos from Private Collection
See Collection!








ANOTHER PRIVATE CYCAD COLLECTION
ARRIVED JAN., 2016
OLD MATURE SPECIMENS
MANY SUPER RARE
CLICK TO SEE COLLECTION
NEWLY ACQUIRED COLLECTION - DEC. 2015
SMALL TO MED. SIZE - RARE




LARGE PRIVATE CYCAD COLLECTION - LARGE PLANTS
CLICK TO SEE
More Cycad Features to Check Out Below:
If, for any reason, you have a cycad collection you wish to sell,
please contact us.
Thanks for reading this.
Phil
Jungle Music
| | | |
| --- | --- | --- |
| 2 | | |
| | | |
Email:
Website:

Nursery Location:




450 Ocean View Ave., Encinitas, CA 92024


Nursery Phone:

619 291 4605

Nursery Hours

:

Monday - Saturday - 9AM to 4PM

Directions to Nursery

:

Freeway Close. Take Freeway 5 to Encinitas
(10 minutes south of Oceanside, 30 minutes north of San Diego).
Exit Leucadia Blvd West (toward ocean).
Immediate left on Orpheus Ave, left on Union St,
Right on Ocean View Ave to Nursery, which is at 450 Ocean View Ave